Grow and Innovate at Duke Health
Join us in our all-embracing commitment to excellence, innovation, and tailored patient care at Duke Health. Explore hiring events and discover all the ways Duke Health supports team members personally and professionally.
Duke Health Hiring Events
Thursday, June 8 | Certified Medical Assistant Virtual Information Session
Time: 6 p.m. - 7 p.m.
Location: Virtual (Zoom)
Hiring For: Certified medical assistants
Register to Attend

Register today for the Certified Medical Assistant Virtual Information Session to learn how Duke Health can support your medical assistant career. During this session, you'll explore opportunities available across the Triangle, learn about Duke benefits that are designed to support you professionally and personally, and hear from a medical assistant team member about her experience. You'll also have time to connect with a recruiter to ask questions and find the perfect opportunity for you within Duke Health.
New Graduate Nurses:
Several new graduate nurse programs are currently accepting applications. Explore these programs and how Duke Health can launch and nurture your nursing career on our new graduate nurse opportunities page.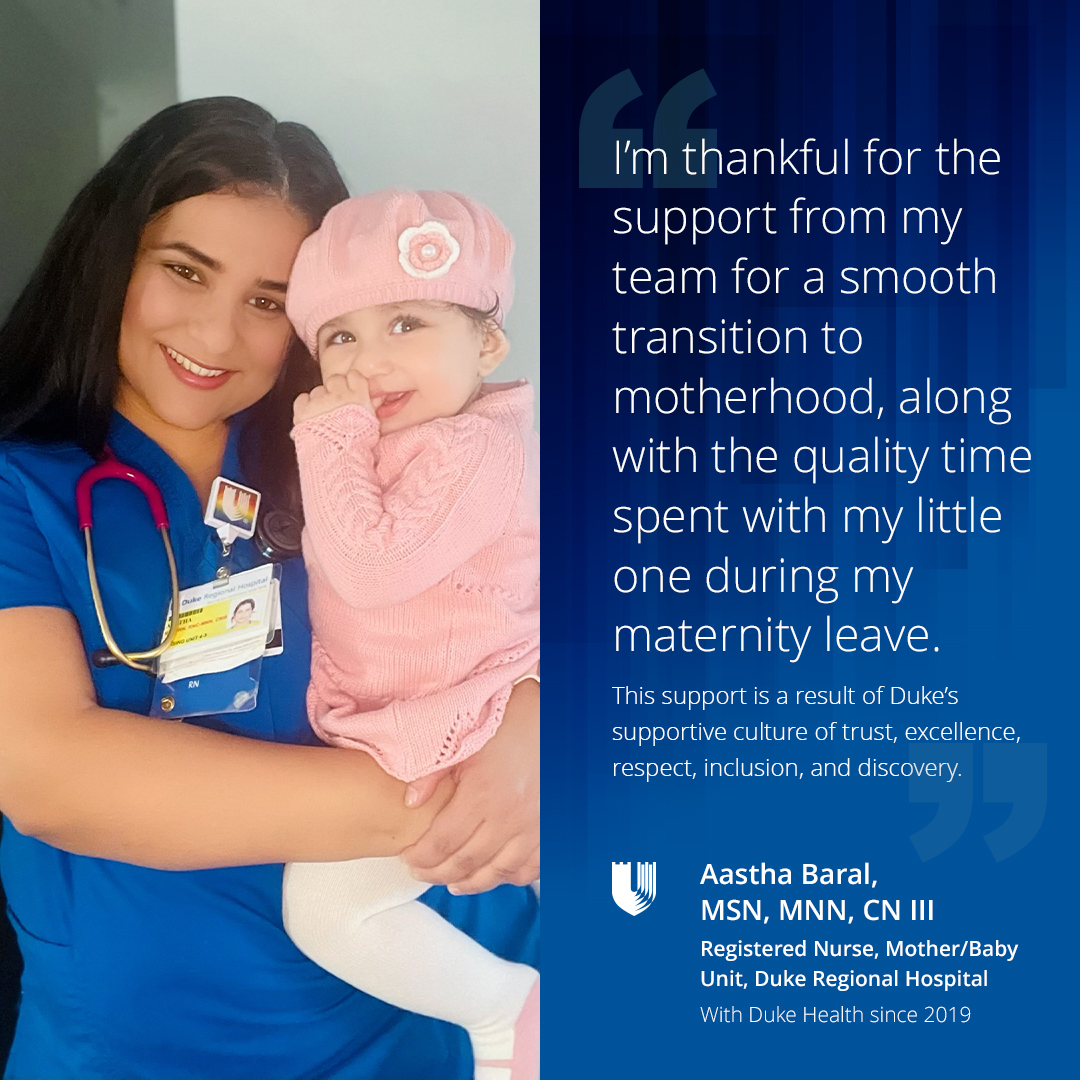 Aastha's Story
After working with families for years in the mother/baby unit, Aastha welcomed her own bundle of joy last year. As a new mom, she was thankful knowing she would have her team's full support during her motherhood journey. Compassion and understanding are a big part of the culture at Duke Health – something that Aastha herself offers to the patients she works with. It is this same culture that made her maternity leave so enjoyable and her transition back to Duke so seamless. Join a health system where you're supported both personally and professionally.
Recently Viewed Jobs
You don't have recently reviewed jobs yet.