Starting Over in the U.S.
When Vida Gyamfi joined Duke Health in 2013, she wanted to continue serving others after providing care as a nurse to patients in her native Ghana. She'd worked as a nurse back home and had her sights set on doing the same thing in the U.S.
But obtaining the proper licensure for nurses trained outside the United States was a complicated process, so she opted first to take a housekeeping job at Duke Health. But, she says, that job gave her access to resources to pursue her calling to care in the U.S. and a sense of fulfillment knowing that she was creating a safe and clean environment for patients.
Vida was assigned to the emergency department at Duke Raleigh Hospital that December and got right to work, not only cleaning but chatting up nearby nursing assistants about how they got where they were.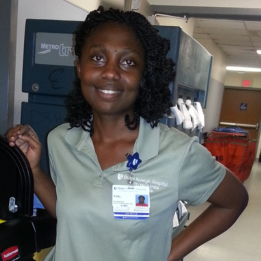 Housekeeping is a vital job. In the hospital setting, we cannot do without cleanliness. I knew how important it was, so I was very dedicated.
Vida Gyamfi
Clinical Nurse II, Duke Raleigh HospitalWith Duke since 2013
Getting Back to the Bedside
Vida wasn't about to give up on her nursing dreams, which began under the saddest circumstances imaginable.
"As a young girl in Ghana, I witnessed my two brothers suffer from the effects of Sickle Cell Disease and saw the pain my parents had to endure," she said. Both brothers died at the age of six from their first sickle cell crisis due to poor management, she said. "Two days before the death of one of my brothers, the doctor discharged him prematurely. My best friend's mom was an experienced nurse and advocated for his readmission. Her actions and the above life situations sparked my desire to pursue a career in health to serve the people and create awareness of such preventable diseases."

Less than a year after joining Duke Health, Vida made the switch from housekeeping to nursing, starting work on the Progressive Care Unit at Duke Raleigh Hospital after earning her NA1 certification from CareOne Health Institute. She added her NA2 certification in 2016.

With the support of her team and benefits at Duke Health, Vida has obtained the licensure, degrees and certifications necessary to begin practicing as an RN with us in 2017. But it's not just the professional growth that has made a difference in her life – she's also found a community that has supported her personally throughout life's major milestones.

Duke benefit programs like Employee Tuition Assistance and the certification bonuses have helped her along her path. She also raves about the scheduling flexibility afforded to her by various managers, a key as she and her husband welcomed three children.

Like Vida's family, her career continues to blossom. She earned her Family Nurse Practitioner certification in November 2022 and will finish an endocrinology specialty program at the Duke University School of Nursing this coming December.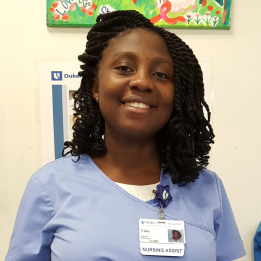 I have a friend who says 'No matter how big a tree is, it can never make a forest.' Every hospital job is important, from housekeeping to nursing. We need everybody. Whatever you are doing, keep on shining.
Vida Gyamfi
Clinical Nurse II, Duke Raleigh HospitalWith Duke since 2013
Create Your Own Unique Career Path at Duke Health
Explore open positions at Duke Health and see where your story with us can start.
Note: This story was adapted from the original, which was published on the Duke Raleigh Hospital blog.
Create your own unique career path here at Duke Health.
Recently Viewed Jobs
You don't have recently reviewed jobs yet.