We look forward to you joining Duke Health, where we work together to bring extraordinary care to the community and patients we serve. In preparation for your career with us, please review this information below.
Before You Begin
Candidates selected for a position at Duke Health will receive an offer letter that will include your intended start date. At this time, you will also receive a link in your e-mail from HireRight, our third-party vendor, to complete a background check.
If you are 90 days within your start date, please be sure to complete the following steps:
Sign and return your offer letter to your recruiter
Verify your background and credentials
Get your Duke identifier and login
Meet with and provide proof of immunity to several communicable diseases to Duke's Employee Occupational Health & Wellness team. You will be contacted to schedule your appointment with Employee Occupational Health & Wellness.
Complete a drug screen
Submit your new hire paperwork
Provide proof of or receive the influenza vaccine or a Duke approved medical or religious exemption. The COVID-19 vaccination is no longer a requirement for team members, but Duke Health strongly recommends getting up-to-date vaccinations against COVID-19, especially for those with conditions that place them at higher risk.
Please note: As part of our COVID-19 safety protocols, you will be required to sanitize your hands upon entry to any of our facilities and wear a mask for in-person appointments. Know that team members that interact with you will also be masked. If you are feeling ill, have a fever, cough, cold or flu-like symptoms, please call us to reschedule.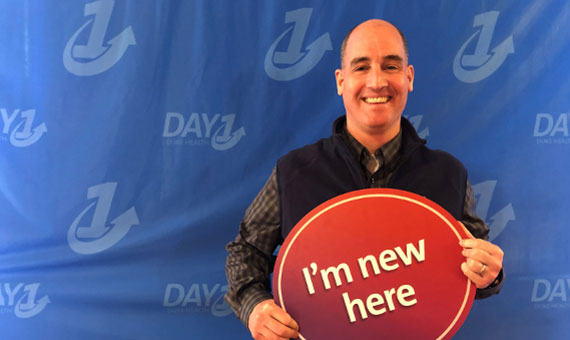 Orientation at Duke Health
We are so delighted you have brought your skills and passions to Duke Health, where our differences are our strength. You will play a critical part, as healthcare professionals in positions across disciplines and Duke Health facilities, in one unified commitment to advance health together for the Triangle community and beyond.
Day 1 at Duke Health Orientation: After the hiring process is completed, you will participate in an orientation program called Day 1 at Duke Health. This interactive virtual experience is designed to immerse you in all things Duke Health, the mission, vision and values, history, key facts, benefits, and connect you in networking opportunities with other new Duke Health colleagues. Prior to this afternoon orientation, you will receive a link to access the experience which is best viewed on a computer, not a mobile device.
Orientation Learning Modules: In addition to the Day 1 at Duke Health Orientation, within the first two weeks of your time with us, plan to complete the Duke Health Orientation modules via the Learning Management System. This coursework will be automatically assigned to you and will take between 80 and 90 minutes to complete. Please prioritize the benefits module as you must select your benefits within 30 days of employment.
Clinical Education will contact all nursing and nursing support team members for nursing orientation that will occur the remainder of the first week. Additional modules will be assigned based on job duties, including any certifications and trainings.
Jobs For You
As you search for opportunities that fit your skills, any jobs you view will appear here.
You haven't saved any jobs yet, but when you find an opportunity that seems right for you, bookmark it so you can return to it easily.