Careers at Duke University Hospital
Duke University Hospital is the largest of Duke's three hospitals and is consistently rated as one of the best in the United States. It is located in Durham, North Carolina, and known for its outstanding care and groundbreaking research.
The hospital offers comprehensive diagnostic and therapeutic facilities, including a regional emergency/trauma center, an endo-surgery center, a separate hospital outpatient surgical department with nine operating rooms, and an extensive diagnostic and interventional radiology area.
1048
Licensed inpatient beds
65
Operating rooms in our major surgery suite
Level 1
Emergency trauma center
11
Nationally ranked adult specialties (U.S. News & World Report 2022-23)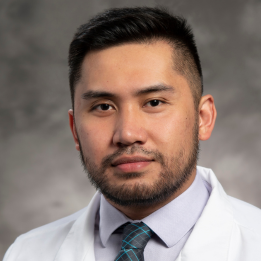 My leadership and colleagues have been instrumental in my success. My manager was supportive of my balancing school and work and many of my coworkers offered to pick up shifts for me.
Jason Suarez, MSN, RN
Nurse Manager Operations, Duke University HospitalWith Duke since 2013
Recently Viewed Jobs
You don't have recently reviewed jobs yet.