Before becoming a registered nurse, Jaysia Brown, clinical nurse I at Duke University Hospital, was inspired as a child seeing her grandmother care for home health patients.
Following in her footsteps as a licensed practical nurse in home health, Jaysia eventually went back to school to become a registered nurse — and shortly after, joined Duke Health in December 2021. As a new graduate nurse at Duke Health, Jaysia has found the support and opportunity she needed to grow her clinical knowledge.
"When you start, there's a program that deals with nurse residency for new graduates," said Jaysia. "You learn how to take nursing to the next step, the next level, how to be better, how to become a better educator, and overall, just increase your skills and knowledge — and prepare you for the world."
The Duke Health Nurse Residency Program, which all new nursing graduates are automatically enrolled in, begins during a new nurse's first week of orientation and lasts a full year. Filled with support from experienced nurses, clinical discussion and interactive experiences, as well as an evidence-based inquiry project, the program is designed to truly kickstart new nursing team members' careers and help them advance.
As Jaysia continued gaining experience in Duke Raleigh Hospital's Progressive Care Unit, and as she completed the Duke Health Nurse Residency Program, Jaysia began participating in the Nursing Career Ladder, which is designed to help team members advance through promotion.
Jaysia will soon advance from a clinical nurse I to clinical nurse II through this program and points to the program itself and her leaders for creating a space for her to grow.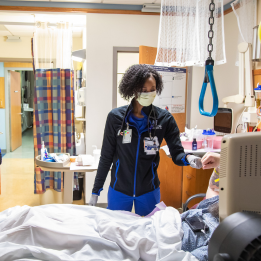 At Duke, they want to hear your voice. They believe in you. They want to help you learn and they want to help you grow.
Jaysia Brown
Clinical Nurse I, Duke University HospitalWith Duke since 2021
Seeking to pursue a new passion for pediatric and neonatal patients, Jaysia made a seamless transition in June 2023 to the Labor and Delivery unit at Duke University Hospital.
"I am so, so, so excited. This is my dream job," said Jaysia.
Although Jaysia just began a new chapter of her nursing career in the Labor and Delivery unit, she wants to continue growing at Duke Health.
"Going into this new role as a labor and delivery nurse will be also beneficial for me because I want to continue on with my education. When I say that, I'm thinking about doing DNP Midwifery or DNP FNP," said Jaysia.
All along Jaysia's career journey at Duke Health, she's found the support and opportunity she needed to keep advancing her career as a new graduate nurse. As Jaysia looks to the future, she knows that she'll continue to have the full backing of programs, fellow team members, and leaders all along the way to help her take her career to new heights.
"Here at Duke, there's endless opportunities for growth. In regards to the Career Ladder, I want to see myself at the top," said Jaysia. "I want to do big things here."
Find the support and opportunity you need to jumpstart your career
Like Jaysia, you can find programs, initiatives, and the support you need from leaders and team members to truly help you start you career and advance.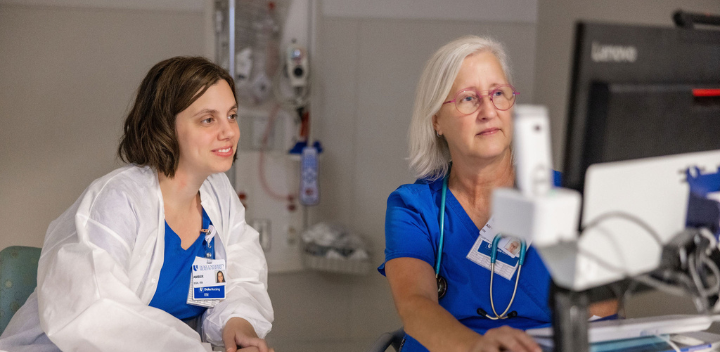 Recently Viewed Jobs
You don't have recently reviewed jobs yet.