In June 2017, Megan Nishio was searching for unique opportunities to gain experience and develop professionally in hospital operations. Her search ultimately led her to the two-year Administrative Fellowship Program at Duke University Hospital.
It was during this transformational fellowship experience at Duke that Megan was able to truly grow.
"The fellowship program was incredibly impactful to my professional development," said Megan. "I was originally interested in administrative fellowships to be able to get my foot into hospital operations since I had no experience in it before, and partially because of the professional development, but what I took away from it most were the soft skills that supported my career growth."
Megan's experience within the Administrative Fellowship Program provided, in part, the opportunity to learn through the mentorship of leaders that all fellows were paired with. Leaders challenged Megan to think about a variety of different topics that ultimately impact leadership.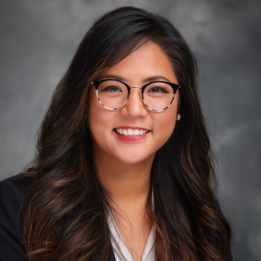 Leaders and mentors were super supportive in my professional development by helping sponsor projects that provided me exposure and experience across the hospital that I probably wouldn't have received in a traditional role. More importantly, they challenged me to look deeply inward and reflect on not just my strengths but areas I needed to grow in and coached me on improving.
Megan Nishio
Chief of Staff for the Chief Executive OfficerWith Duke since 2017
The fellowship also allowed Megan to gain valuable experience managing projects and understanding different unit needs, processes, dynamics, and initiatives.
The two-year program begins with rotation-based training in the first year, before immersing team members in value-driven support and focus projects for a specific service line in the second. Promoting curiosity and consistently offering learning opportunities are key attributes built into the program's design — and promoted throughout Megan's participation in it.
Now, as the chief of staff for the chief executive officer of Duke University Health System, Megan still benefits from the growth she experienced in the program.
"Collectively, we at Duke can do anything when we work together. The fellowship taught me a lot of guiding principles that I use almost every day and likely use the rest of my career."
Recently Viewed Jobs
You don't have recently reviewed jobs yet.